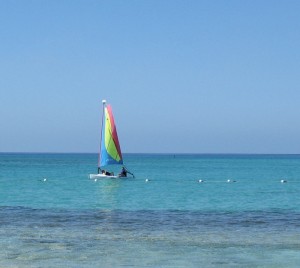 I used to dream of sailing. I wanted to pull away from shore, using the power of the wind, following an ancient way of traveling. But, I just didn't know how to get started. You might feel that way, too. So, I thought I would share a few ideas on how you can get started. Yes, you can learn to sail.
Probably the best, and cheapest, way to get started is to join a community sailing center. These are a great resource. An example of a really good community sailing center is the MCSC in Milwaukee. For around $150.00, you get an eight session class that will get you off to a good start. The boats may be a little older, but the mostly volunteer staff keeps them is good sailing condition.
If you don't have a community sailing center nearby, here are some other options that might work for you.
Find a friend with a boat that is willing to teach you how to sail.
If you are younger, you might find a yacht club with a summer youth program. For around $200.00, you can get five full days of instruction. Sometimes you can find classes like these at colleges or in continuing education programs.
Try connecting with your local yacht club to see if anyone needs racing crew. Whether you are interested in racing or not, you can get some great experience volunteering to help on a boat.
Buy a small boat and try it out. You can learn the basics pretty easily. If you go this route, stick with something on a trailer that is 16 feet or less. Lasers and similar boats from Hunter, Precision, and others are popular. To really learn, get a boat with two sails; a main and a jib. A common saying among sailors is that if you can sail a small boat, you can sail any boat. Smaller boats are very responsive so you tend to learn faster.
Sailing schools are an option, though they can be a bit expensive. After learning the basics, I took a bareboat sailing class. I spent a week on a large boat sailing along the Florida coast and learned a lot about coastal sailing. One good example of a sailing school is Blue Water Sailing School.
The most expensive option, but a tempting one, is to charter a boat with a crew. While enjoying a great vacation in an interesting location, the crew can teach you as much or as little as you want. One example of this is The Moorings.
Whatever route you take, I hope you have a great adventure on the water. Keep me posted by sharing a comment.
Copyright 2011. All Rights Reserved.