Have you ever gone to summer camp? Do you send your kids to camp? Camp was always a big part of my summers. Every summer, I would go to Camp Shalom, which sadly no longer exists, and Skogforden, which is thankfully still around.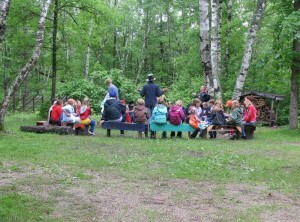 I recently had the chance to go back to camp. This time as a volunteer counselor at Skogfjorden. I had a great time singing, playing, and learning right along with the kids. Skogfjorden is one of the Concordia College Language Villages. Located in Bemidji, MN, these camps offer a language and culture immersion experience based on  fifteen different languages. Skogfjorden is the Norwegian language village.
I really enjoyed my week at camp. The staff are incredible; smart and dedicated. The food was excellent including many Norwegian meals; open face sandwiches, risengrot, polsa, lefse and much more. Campers stay in cabins named after cities in Norway like Oslo, Kristiansand and Hamar.
Every day presents the opportunity to learn through language classes, songs and games. During free time, kids have the chance to bank and shop using Norwegian money. While it isn't exactly like visiting Norway, it is a great chance to have a Norwegian-style experience.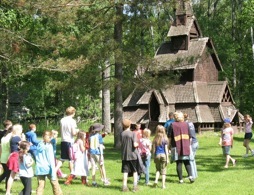 Other camps are great experiences, too. Boy and Girl Scout camps also offer a great opportunity to try new skills like Archery, Fishing, Cooking, and First Aid.
Camp is a chance to learn and grow in an outdoor setting. The benefits of being outside are well documented. In Last Child in the Woods, Richard Louv identified the benefits of outside play as well as including nature in schools and learning.
This American Life on public radio did a story on Going to Camp. Many people shared their stories of being a camper or counselor. In fact, most felt it was the most important element in their lives. There are some really interesting camp stories.
For me, there are some real benefits to going to camp. You can begin to learn independence in a safe environment. You have the opportunity to try new experiences and meet interesting people. And, you can begin to see that you can do things on your own. Camp also offers the chance to take on a whole new identity. You often have the chance to use a new name, to create a new persona just for a little while. And, you may find that some of your new skills, friends, and identity stay with you long after camp is over. It can be a powerful experience.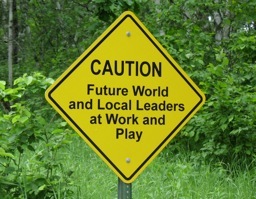 After being at camp this summer, I found that it was just as fun now as it was all of those years ago. It is fun for both kids and adults. I can't wait to go back and do it again.
What are your favorite camp memories? Are your children going to camp this summer? I would love to know your about your experiences. Share your thoughts by posting a comment.
Copyright 2011. All Rights Reserved.