Three Foot Envy Revisited
About that three foot envy article I wrote a few months ago, just wanted to share an update. So, the idea was to go small, go now. And that is still pretty much the plan. But, we did not go with the smallest possible camper and tow vehicle.
I really wanted to like the 23 foot camper. Really. But, at least the one that was the leading choice just didn't cut it. It had a u-shaped dinette that was just too tight for average people to sit at. Storage was limited and awkwardly placed. Finally, there just wasn't the flexibility of a dinette and couch for those rainy days.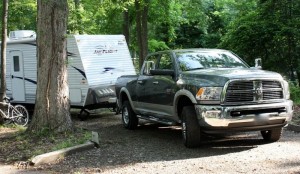 So, I got a 26 foot camper, a Jayco Jay Flight 26BH. Well, at least I didn't go for the 28 foot with a slide out.
As for the tow vehicle, I also didn't go with the smallest possible unit. After talking to camping friends telling woeful tales of their half-ton pickups; of trying to climb even modest grades, of hearing of extremely low fuel mileage, and just plain being uncomfortable; I decided to go with something more suited to the task of pulling a camper. In this case, A Dodge Ram 2500 with the Cummins Diesel. The thing is huge. What a change from driving a small sedan. But, it is comfortable and tows well. It is the right tool for the job.
So, I guess in summary, I tried to pick a camping rig that would be comfortable without being overwhelming. Not exactly going small – but it seems like the right decision for my needs. I'll be sure to keep you posted.
Copyright 2010. All Rights Reserved.