Must Have RV Departure Checklist
We provide a must have RV departure checklist with all the things you need to do before leaving your campsite. Includes a free printable RV departure checklist.
Why You Need An RV Departure Checklist
Why is that guy waving at us? Oh no, we forgot to put the TV antenna down. Honey, where are our bicycles? Oops, we forgot them back at the campground. Hey, remember that time we were driving down the road and you noticed in the mirror that our trailer steps were still down? Oh yeah. That was great, right?
We've all been there. There are so many things you need to do before departing your campsite, sometimes it's hard to remember them all. That's why an RV departure checklist can be so helpful. It provides a system to help you ensure everything is in place and secure before hitting the road.
How to Divide RV Departure Duties
Every RV is different and every camping group is different. There isn't one perfect way to tackle the jobs for departing. However, it can be helpful to agree on a plan so that everyone knows what they are responsible for. And, it can be useful to have a process to follow so that one person doesn't do their job out of sequence. For example, before you bring in the slide, you need to clear debris from the roof and ensure there isn't anything blocking the slide. So you would want to order the steps so that the slide is brought in only after all of the required tasks are done. With experience, coordinating these steps becomes easier.
Our RV Departure Process
Our process has Judy doing most of the inside tasks while Erling does most of the outside tasks. However, there is some crossover. And, when our kids join us for camping, they take on some of the departure duties. Here is an outline of our approach and the steps in the order we follow. Since every RV and camper is different, your process may be different. Review the steps outlined here and in our downloadable RV Departure Checklist and then make a list that works best for you.
Pack a Lunch
Pack a lunch, snacks and drinks. Secure food in the pantry and fridge to minimize movement in transit. When our slide closes, it blocks our main pantry and refrigerator. If we have a long drive ahead, we pack what we need into a small cooler.
Clean and Stow Pet Items
Put away dog food and water bowls. Clean and stow. Secure pet bed or pet cot, leashes, and any other pet supplies.
Clear the Kitchen
Wash dishes. Put away all dishes, cooking utensils, and the drying rack. Store the coffee maker or other small appliances away. Put away the dish soap and hand soap dispenser.
Clear the Bathroom
Put away bathroom items like toothbrushes, shampoo and the bathroom soap dispenser.
Store Laundry
Put all kitchen and bath towels in the laundry bag or on the shower floor. Strip sheets from the beds and place in a laundry bag with any other items that need to be washed when you get home.
Prepare Water System
Turn off the hot water heater. If you plan to empty the hot water heater, it will need time to cool. If you are camping at a water & electric site and plan to use the dump station, fill the gray and black tanks so they are ready for dumping. Full tanks help ensure a good flush. Reserve one gallon of water to add with a black tank pod after dumping. Now would be a good time to ensure you have gloves and hand sanitizer ready to clean your hands after dumping.
Dump at Full Hookup Site
If we are at a full hookup campground, fill and dump the gray and black tanks. Add a black tank pod and about one gallon of water to the black tank. Put away sewer hoses, sewer hose supports, and any related accessories like sewer donuts, elbows, etc. Replace end caps if you put the sewer hose in your bumper. Wash hands.
Clean Counters and Other Items
Wipe down kitchen and bathroom counters. Wipe the toilet. We use Simple Green diluted in a spray bottle.
Secure TV Accessories
If you used your TV antenna, bring it down and turn off the TV antenna power booster. Check to ensure no DVD is in the DVD player and secure DVDs. Secure TVs into their traveling position. If they are wall mounted and don't have a latch, use a bungee cord. Store remote controls. We use a small plastic bin to keep the remotes together.
Store Other Accessories
Put away flashlights and other camper items. Put away any inside games or DVDs you used.
Stow items like ottomans. Shake rugs out and move them if needed to ensure they aren't blocking the slide.
If you used a portable heater, store it.
Move any items that need padding in transit to a bed. For example, if you aren't brining a camera or laptop in your tow vehicle, you might place them on a bed. Secure with pillows or blankets.
Clear Outdoor Area
Put away outside items like camp chairs, tablecloth, decorative lights, and garden flags. Stow any outdoor cooking items like a grill or griddle. Bring in the awning if it is out.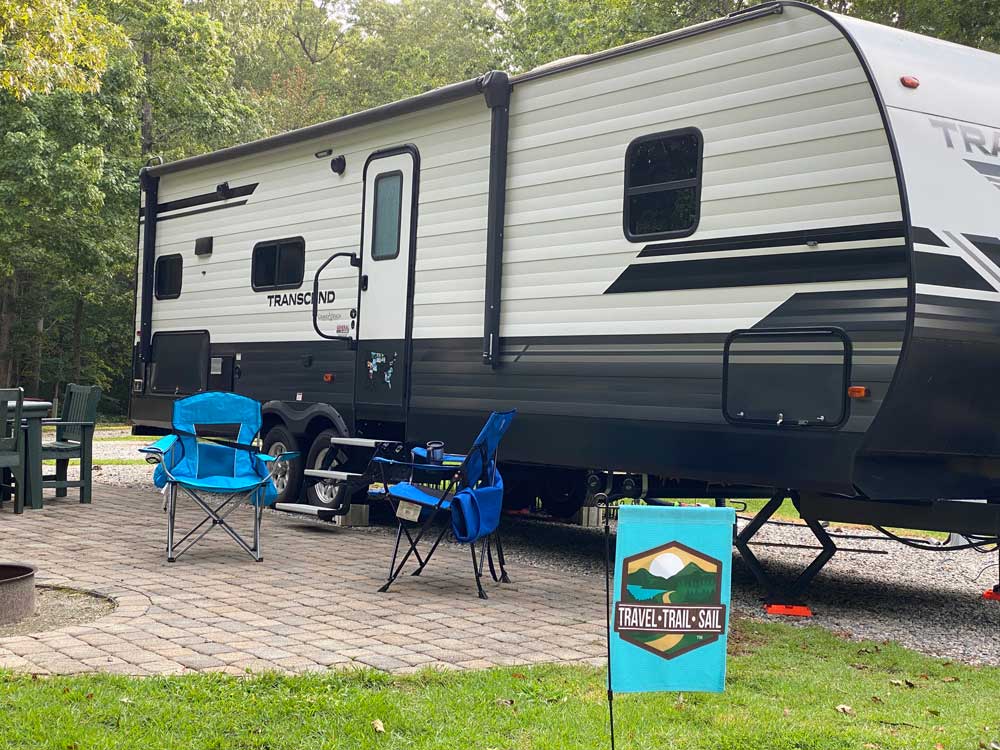 If you used a portable waste tank or blue tote tank, store it.
Walk around the campsite picking up any trash. Your goal should be to leave it as good or better than when you arrived.
Prepare to Close the Slide
Clear the slide roof by blowing or sweeping it. Ensure the slide is clear from leaves, sticks or other debris. While you are on the roof, now would be a good time to do a quick inspection. Are all of the seals in good shape? Is there any damage to the roof that needs repair? If you have solar panels on the roof, ensure they are in their travel position.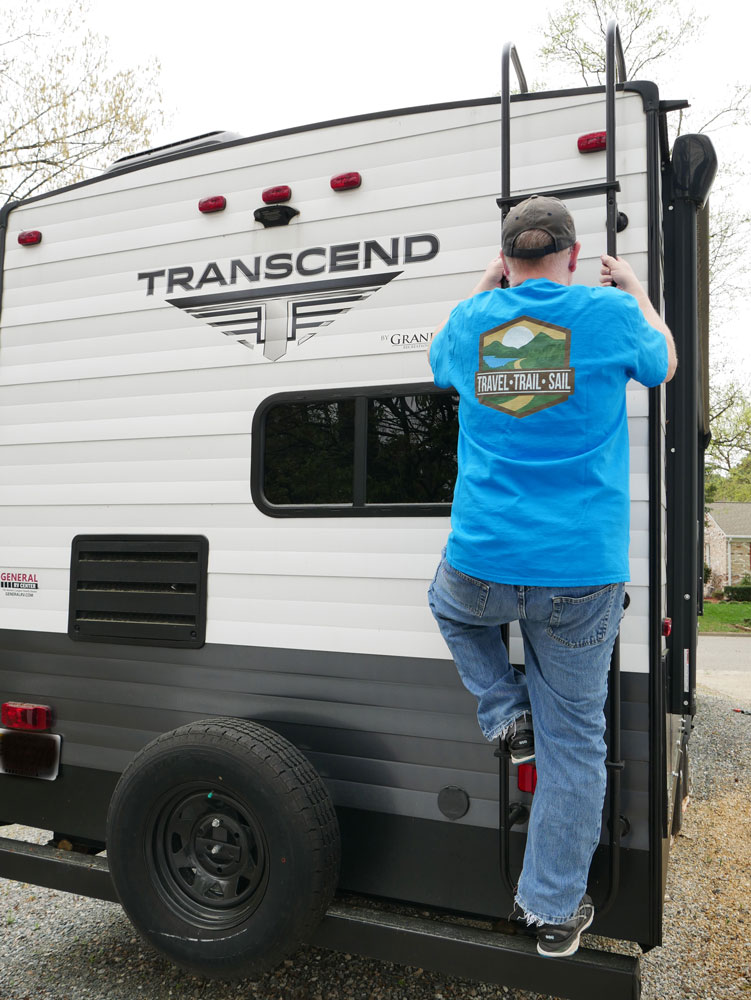 Close Up the Camper
Sweep the floor.
Close windows and shades. Close ceiling vents.
Turn off the AC or heater. Turn off the lights.
Bring the Slide In
Bring in the slide. Be sure to watch inside and outside to ensure nothing blocks the slide as it moves into the RV.
Raise the Stabilizers
If you are camping in a travel trailer, you likely have stabilizers. Raise them. When you are done, store the stabilizer crank.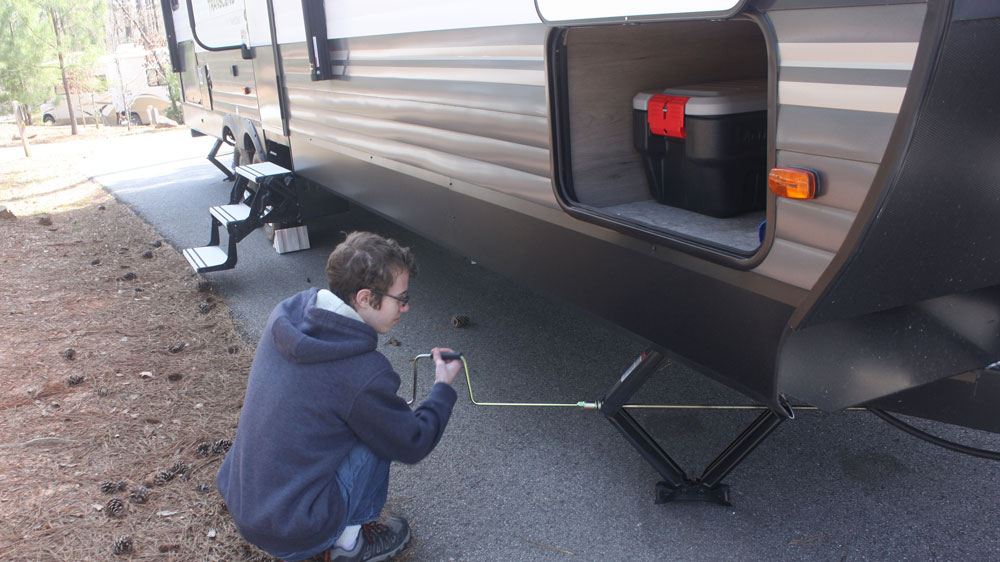 Turn Off the Water Supply
Turn off the water supply. Stow your drinking water hose, secondary hose if you have one, hose splitter, pressure regulator, and water filter. If you don't plan to camp within the next month, consider draining the hot water heater.
Turn Off Electricity
Turn off power at the pedestal. Remove your electric cable and any surge protector or adapters you used. Store electrical items. If you had cable TV, stow the coaxial cable.
Walk Around RV
Walk around the RV or camper, looking up and down to ensure you haven't missed anything like that oven vent that needs to be closed before you go. Check to ensure you put the cap that goes on the water inlet back on.
Hitch Up
If you are camping in a travel trailer, raise it using the tongue jack so that you can hitch. Hitch the camper to your tow vehicle. Lock the hitch. Install sway bars. After hitching, remove and stow wheel chocks.
Mount Bicycles
If you have bicycles, ensure they are stored or secured in your bike rack.
Retrieve Blocks
Pull forward far enough to remove any leveling blocks. Stow chocks and blocks.
Last Departure Steps
Close and lock the entry door.
Lock storage compartments.
Put mirrors out and into their driving position.
Hit the Road
Now is the time to be sure you are ready to hit the road. Do you have directions to where you are heading? Kids and dog are in the car? Got Willie Nelson's "On the Road Again" ready to play? No Willie Nelson? OK, how about a good podcast? Great, then you are ready to go.
But, before you get too excited, maybe have someone be your spotter as you pull out from the campsite. It would be a shame to hit a rock, tree, or sign just as you are leaving from a fun weekend of camping. Don't forget to let them in the car when you are clear of the site.
RV Departure Checklist Printable
We put together this RV Departure Checklist as an example. While your RV or travel trailer may vary somewhat from ours, this should serve as a good starting point. There are blank lines where you can add your own items to the list. Try it out and adjust as needed. Once you get it right, consider laminating it so that it will be good for many departures.
What's Your RV Departure Process?
We hope this post and our RV Departure Checklist was helpful. What does your process look like? Did we miss anything? Leave a comment and let us know. We'd love your feedback. Thanks.
If you like this, you might also like RV Essentials for Outfitting a Camper.
Copyright 2021 Travel Trail Sail. All Rights Reserved.