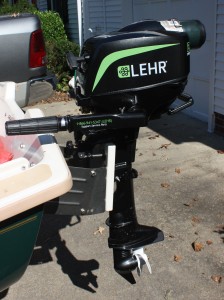 It was time for a new motor for the sailboat and I decided to try a LEHR 2.5 outboard. I was looking for something that would have sufficient power, be easy to maintain and be easier to transport in the van we use as a tow vehicle. I have been using a Honda 2 HP so that will be my main point of reference. I also considered a Torqeedo electric outboard.
The LEHR company bills itself as 'environmentally friendly technology'. They have won awards for providing a cleaner product than traditional gasoline powered options. That caught my attention as I tend to choose more efficient or cleaner products where possible. But, the products also have to fit their intended use for them to satisfy my needs.
After using the LEHR several times, here is my quick assessment.
The Pros:
It has plenty of power to move my 12 foot sailboat.
Having a neutral gear is great when starting the motor. The Honda has no neutral gear and the boat often charged forward when the motor started.
I like that it doesn't use gas. It doesn't leave a smell in the van and I don't worry about fuel leaking.
Hooking up a green propane cylinder is a bit tricky on this motor but it is a portable and easy to use source of fuel. I am considering getting a larger tank and using the longer hose to connect it.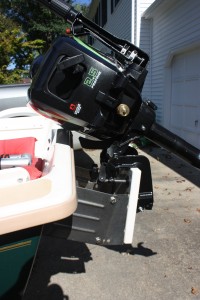 The Cons:
The motor is very loud. When running, you cannot have a conversation with anyone on the boat even though they are only a few feet away.
It burns fuel pretty fast. It will go through a green propane cylinder in one outing, about an hour or hour and a half of motoring, and so you may need to bring reserves. This could be a problem if we have to change cylinders when a strong current is running.
I have had trouble starting the motor. On at least one accession, this caused me to be in a tight spot, holding on to a dock rather than motoring away when needed. This may be related to the safety device which doesn't always seem to attach in the correct slot needed to start the motor.
Because this motor is significantly larger then the Honda, it doesn't fit the sailboat mount in a way that enables it to be raised it from the water on a Bauer 12. This creates quite a bit of drag when under sail.
It requires as much maintenance like oil changes as a gas outboard
It is expensive, about twice the price of a gas outboard.
It is significantly heavier than the Honda or a Torqueedo.
Overall, I am satisfied with the LEHR outboard. It has several advantages over the Honda. I especially appreciate the neutral gear and the use of a cleaner fuel. I appreciate that it is less expensive than a Torqueedo, especially when you factor in the need for a second battery as a backup for the electric outboard. However, it is heavy, larger than ideal for the Bauer, and expensive.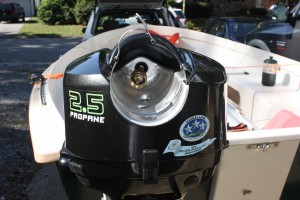 Have you tried a LEHR or Torqueedo as an alternative to a traditional gas outboard. Let me know your experiences by leaving a comment.