As a Boy Scout leader, I have been doing some short backpack camping trips. I needed a small tent just for me and my gear.
After much research talking to other campers and shopping on Amazon, REI, and similar sites, I decided on the Eureka Apex 2XT. After using the tent a few times, here is a short gear review.
My criteria was a tent with enough room for one person and gear for relatively short hiking trips. It needed to be a three season tent good for temperature ranges from 50 to 90 degrees. It needed to be light enough to carry in a backpack but it did not need to be ultralight.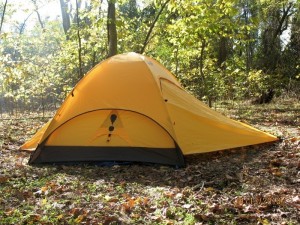 This tent is very easy to set up. It has two poles. There are pockets on one end and pegs on the other. You just have to make sure to put the right end of the pole into the pocket so that you can put the peg in the other end. There are small loops on the top of the tent for the poles. Larger sleeves might have been better – but the loops seem to work OK.
Once you have the main tent up, you can add the fly. This is a nice, large fly with vestibules on both sides. It offers nice protection from the weather. And, there is room for extra gear that you may not want to bring in to the tent. There is one trick to getting the fly on correctly. One end of it has the exclamation point Eureka logo. That end has to be placed on the mesh end of the tent. That way, the doors open correctly.
The tent rolls up into a bag that is provided. This fits nicely in my backpack. While it would be nice if it was lighter and smaller, I appreciate how much room I have inside the tent once it is up. There are really only a few changes I would make to this tent. It would be nice to have a better pocket inside for glasses or other items you may want to have off the floor. It would also be really nice to have some kind of attachment for a tarp to the tent bag to keep them together. I wouldn't want to get to a campsite only to discover that I didn't have a tarp along.
While I looked at other tents for over 300.00, this one meets my needs well. I found my Eureka Apex 2XT for less than 90.00 at Amazon.
Copyright 2010. All Rights Reserved.