Cave Country RV Campground Review
Cave Country RV Campground is a great camping option for your visit to Mammoth Cave. Our Cave Country review has all you need to know about this nice campground in Cave City, KY.
Cave Country RV Campground Overview
Cave Country RV Campground is a great home base from which to explore Mammoth Cave and the surrounding area in Kentucky. Mammoth Cave is a short 10 mile drive. You can be at the visitors center in about 15 minutes. If you are planning other explorations, you can get to the Corvette Museum in Bowling Green in about 30 minutes, to the Lincoln's Boyhood Home National Memorial in about 45 minutes, and to some of the distilleries on the bourbon trail in about an hour.
Cave Country RV Campground is easy to reach from Interstate 65. If you are visiting the area and would like a big-rig friendly campground, this would be a good option.
The campground has 51 full hookup pull through sites. Sites are level and big rig friendly.
Cave Country RV Campground Review Video
We take a tour of Cave Country RV Campground with our YouTube video to show you it's sites and amenities.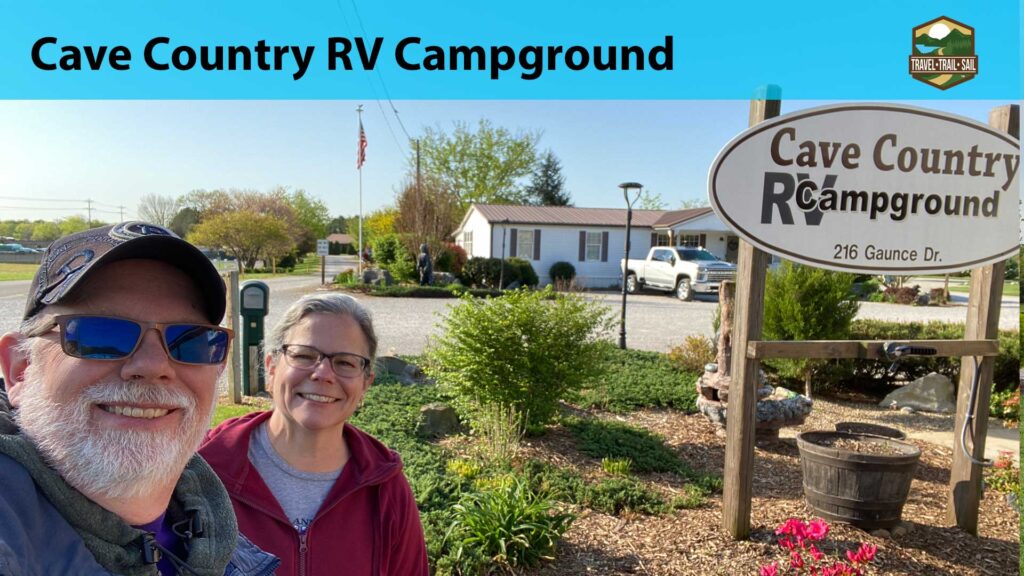 Cave Country RV Campground Sites
There are 51 full hookup camping sites available at Cave Country. Sites are very level and big rig friendly. Sites are gravel. While there are some trees, most sites are open and don't have much shade or privacy. However, there is some space between sites. Each site comes with a picnic table and fire ring. Hookups were in good shape.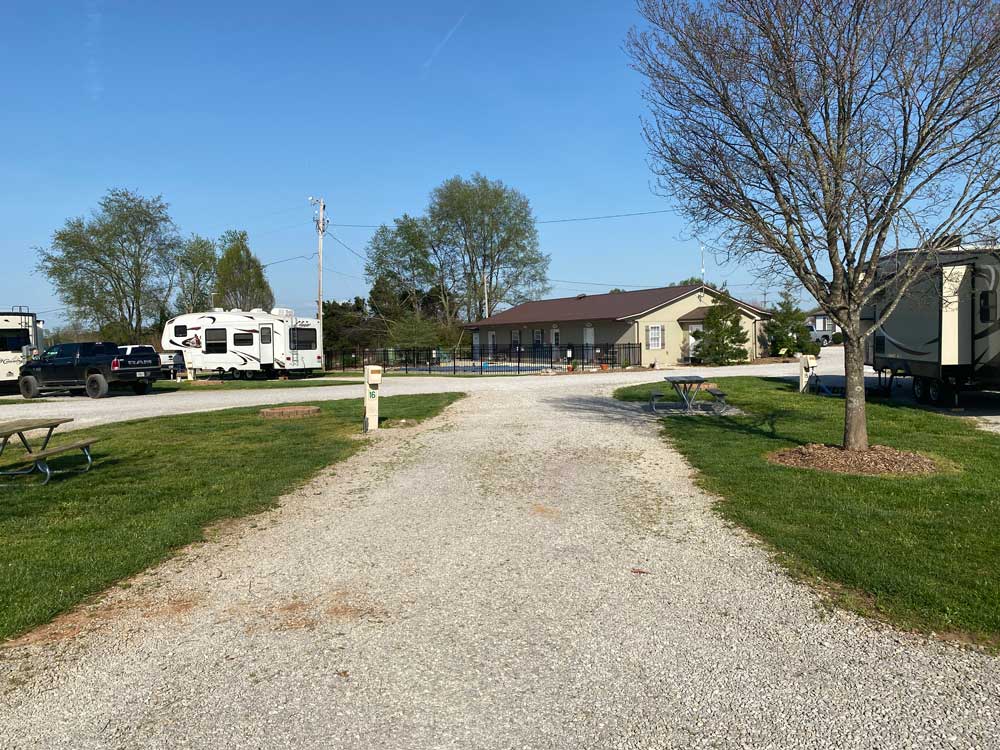 Sites are all along one loop.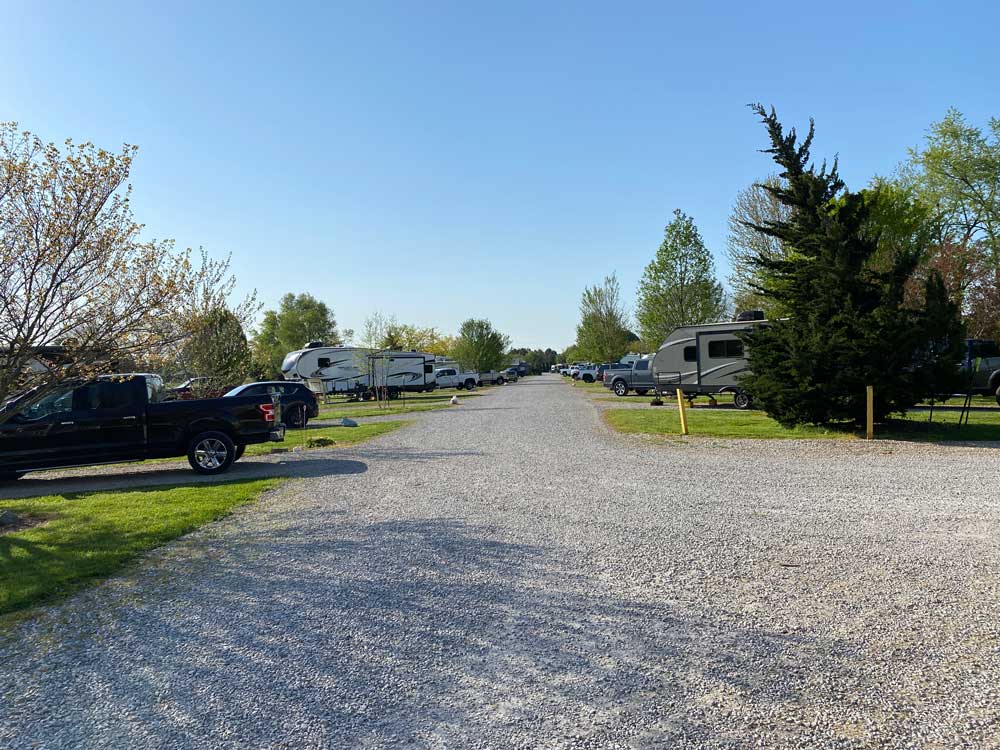 Cave Country Amenities
The office building and campground entrance is at the middle of the campground. There are a number of nice amenities available.
We don't usually see an exercise room at campgrounds. Cave Country has several exercise machines available.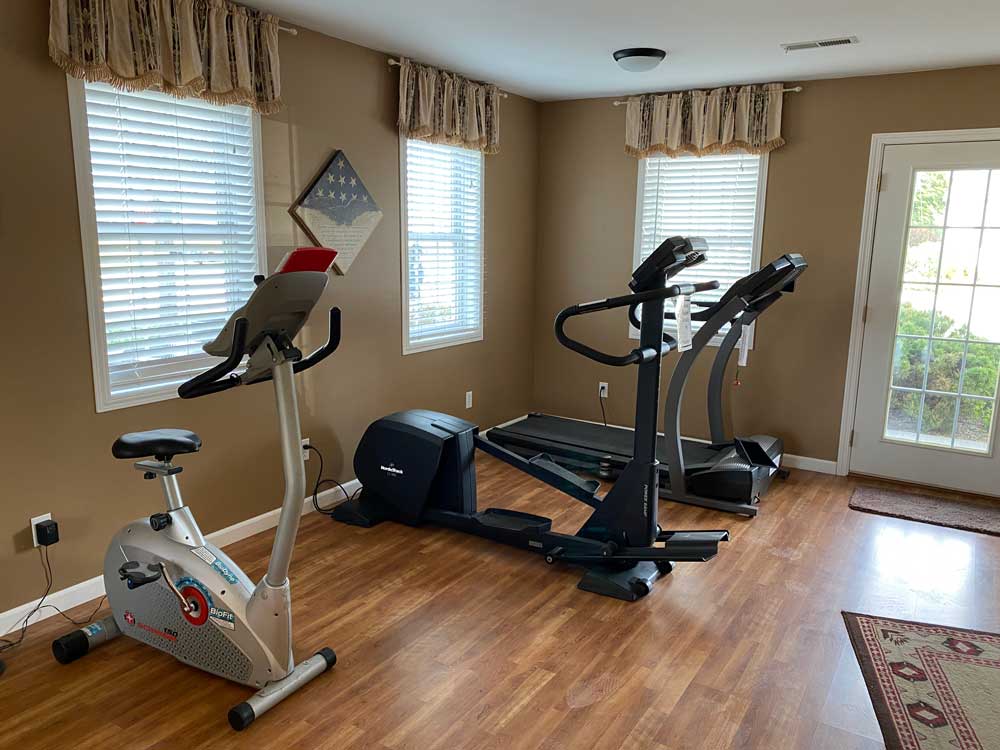 The room also has a nice TV viewing area and a pool table.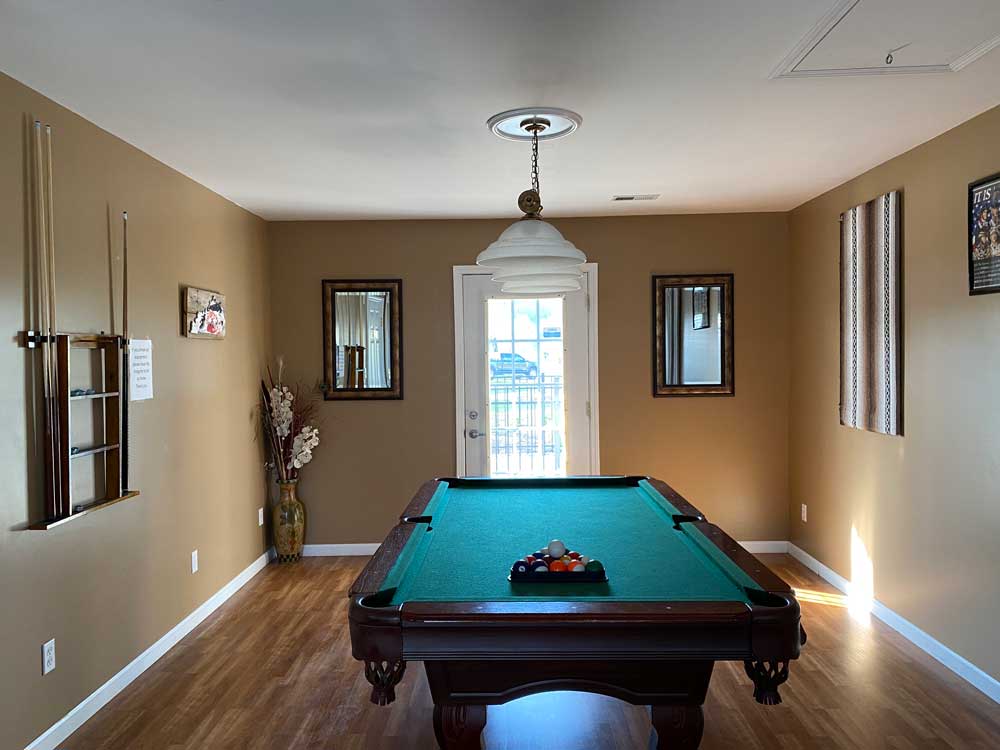 The camp store has a limited selection of RV accessories, laundry products, and a few other items.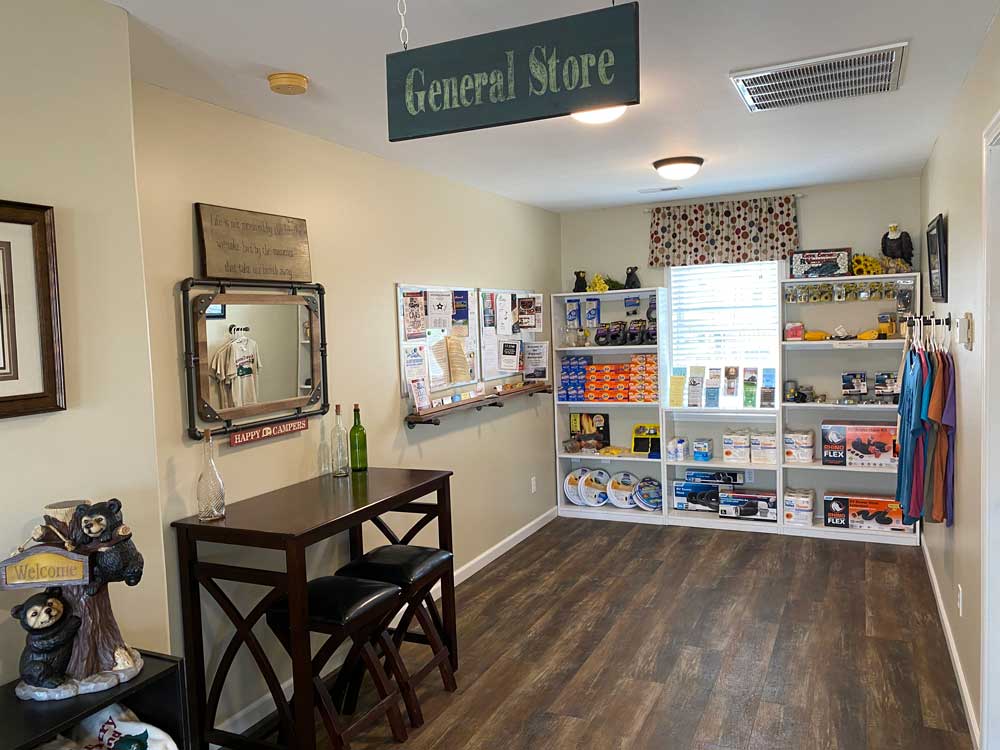 A clean laundry facility has two washers and two dryers. During our visit, the washer cost $1.50 per load.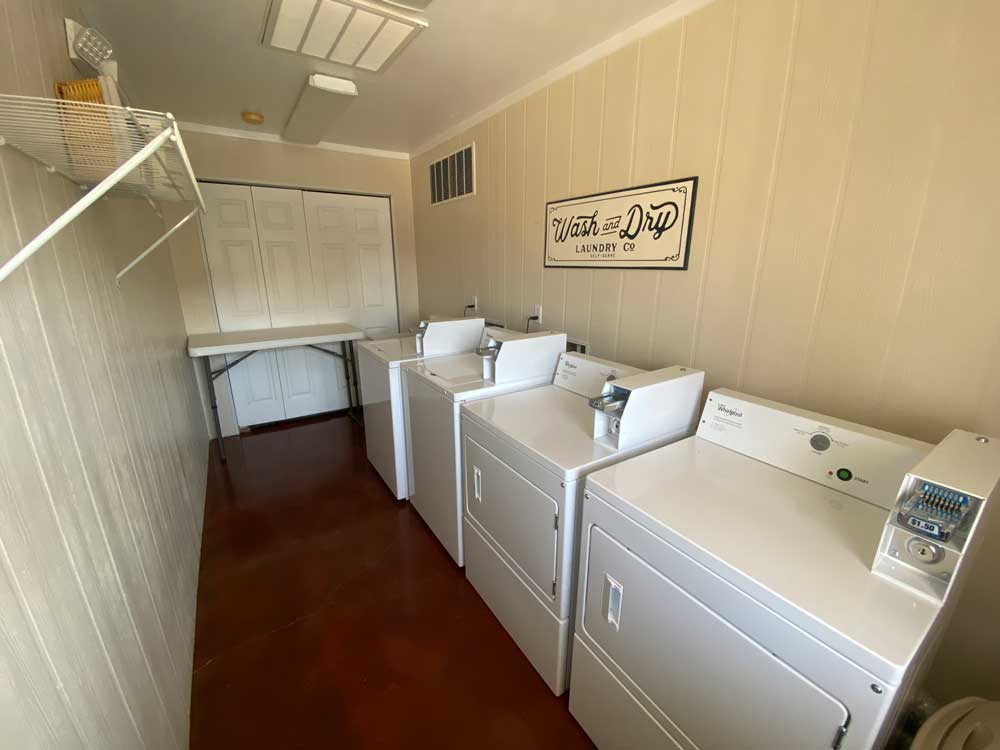 Just outside the laundry, you'll find a small pool. Unfortunately, during our April visit, the pool wasn't open yet.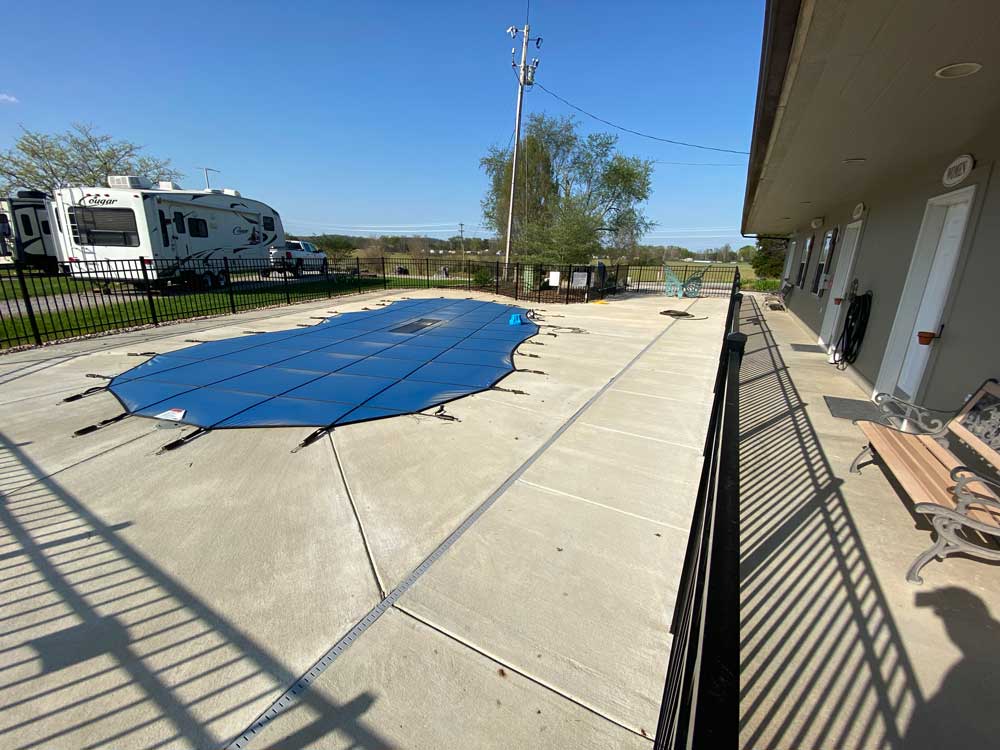 WiFi is available. We tested it by streaming TV on a FireStick. It worked well and we were able to watch TV with no buffering. Cave Country also has cable TV with almost 50 channels available.
While Cave Country doesn't have many amenities for younger visitors like a playground or bouncy pillow, it does have the best dog park we have found so far. The dog park is a large, grassy area. It is separated from the campground by a row of tall trees. There is even a shaded place to site.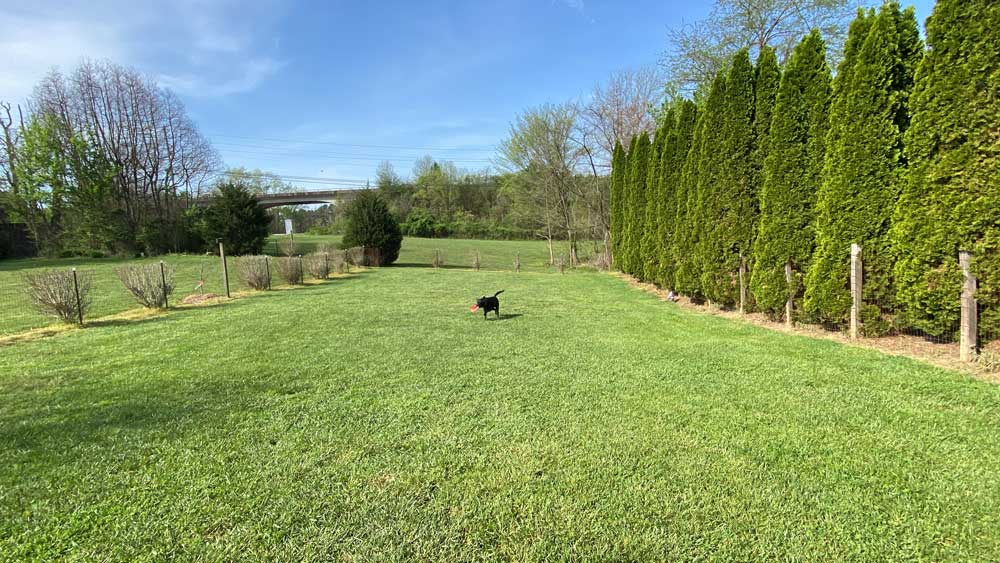 Rita isn't usually interested in the dog parks at most campgrounds. They are often small and have dirt with no grass. However, she really enjoyed playing frisbee and chasing a tennis ball at Cave Country.
A bathroom and showers are also available at Cave Country. They were updated and clean.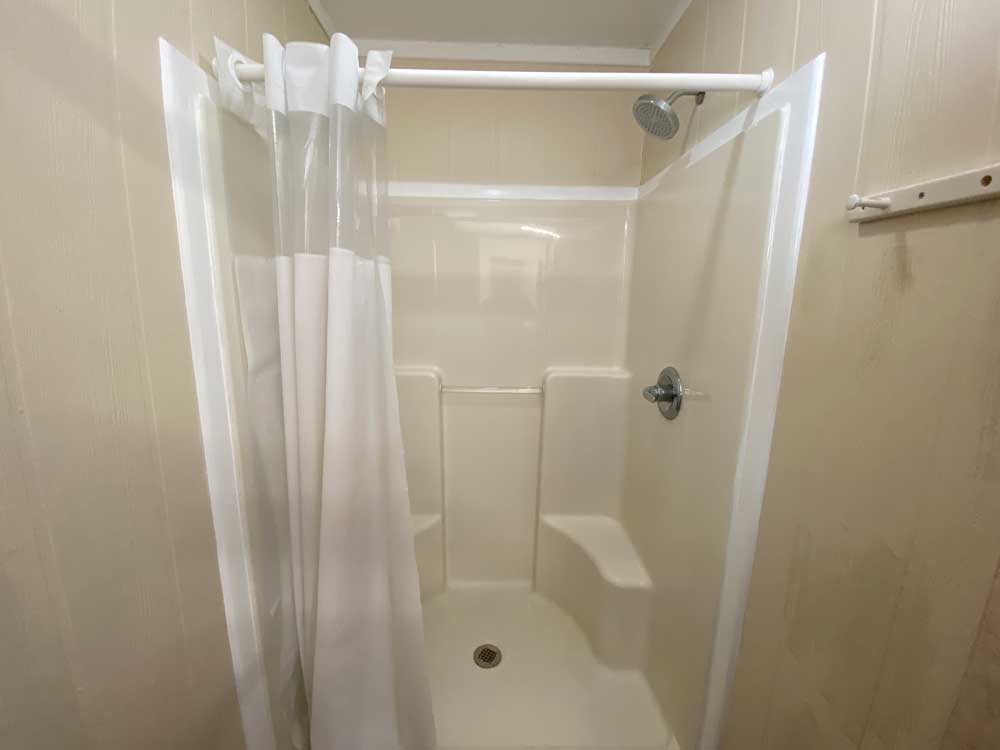 Cave Country seemed to be very accessible. Things were pretty level and there were no stairs to enter buildings.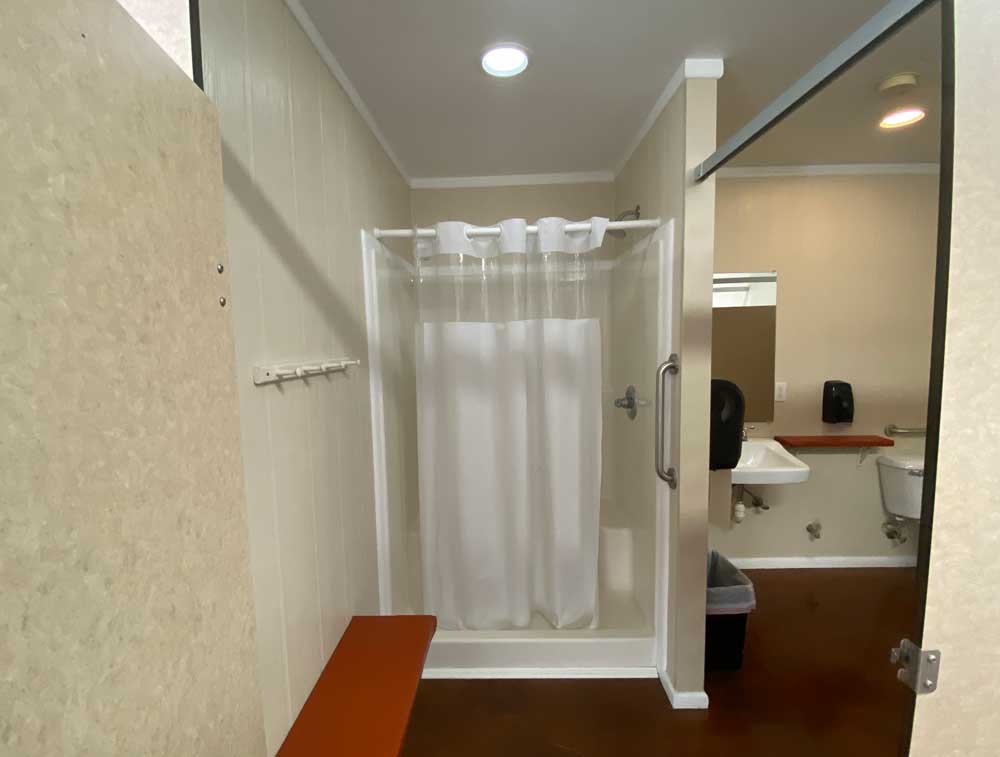 Cave Country is near the interstate and near a rail line. You will likely hear some noise from these during your visit.
Cave Country Rates & Discounts
Sites at Cave Country run about $50 per night. You can get a 10% discount with Good Sam.
Cave Country RV Campground Directions
Cave Country is easy to access from interstate 65. Take exit 53 and the campground is less than a mile away. The best directions are those provided by Cave Country on their site. "Turn left off Exit 53. Take the second left at Cracker Barrel (Sanders St). Go 2/10 mile to Gaunce Drive, turn right. Campground is on the right." Just look for the Cracker Barrel for your turn and then follow the signs. It is pretty easy to find.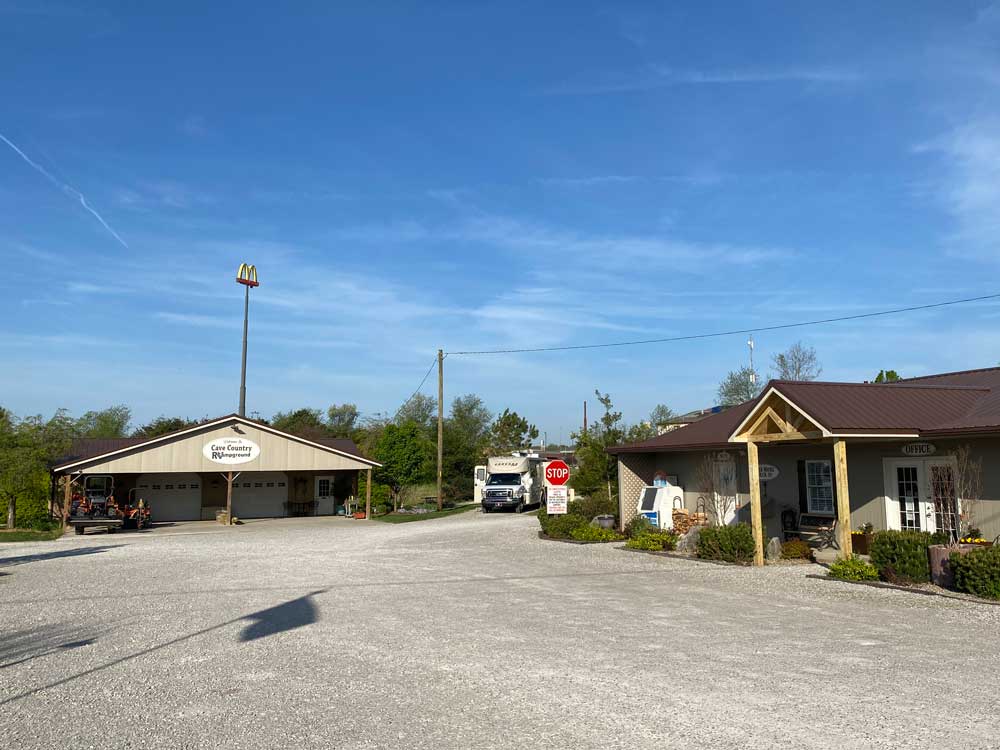 Check in at the office. There is a room for to park your RV in front of the office.
Attractions Near Cave Country RV Campground
The biggest attraction near Cave Country is Mammoth Cave National Park. It is about a 15 minute drive from the campground.
We enjoyed our visit to Mammoth Cave. You can do one of the many cave tours offered. The cave tours are amazing. We did the Historic Tour which was a great introduction to Mammoth Cave. You'll want to be sure to book your tour in advance of your visit as they do sell out.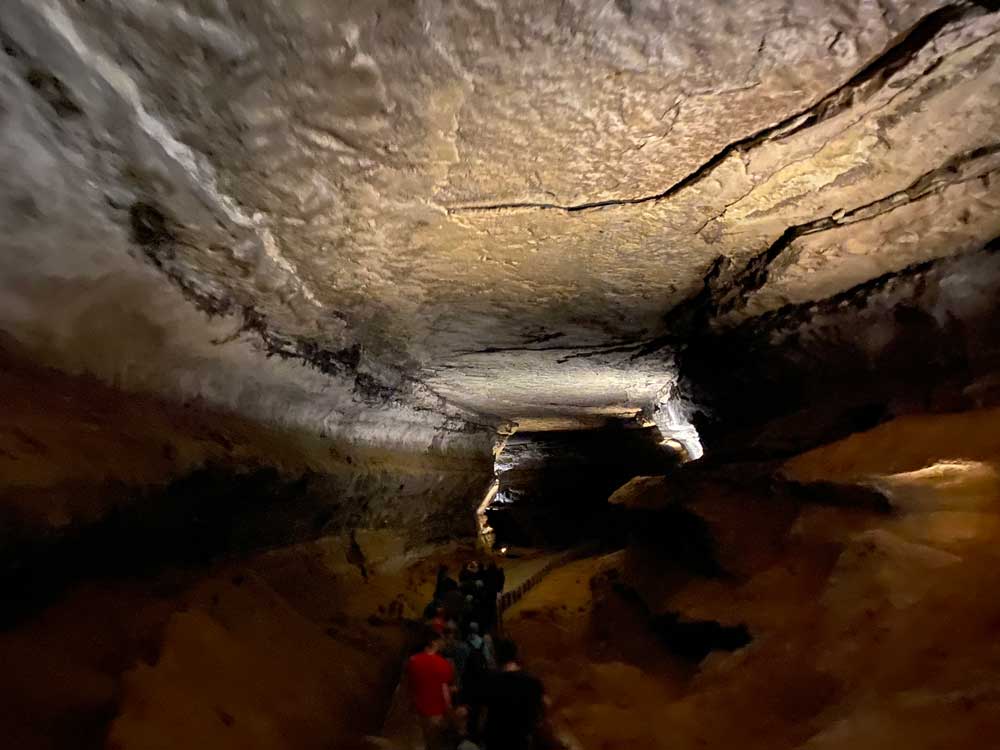 There is also hiking available. Entry to the park is free and dogs are allowed on the trails.
While we didn't have the opportunity to visit, our camping friends also recommend Diamond Caverns.
You might also like to visit the National Corvette Museum. It is in Bowling Green, KY and is about a 30 minute drive from Cave City.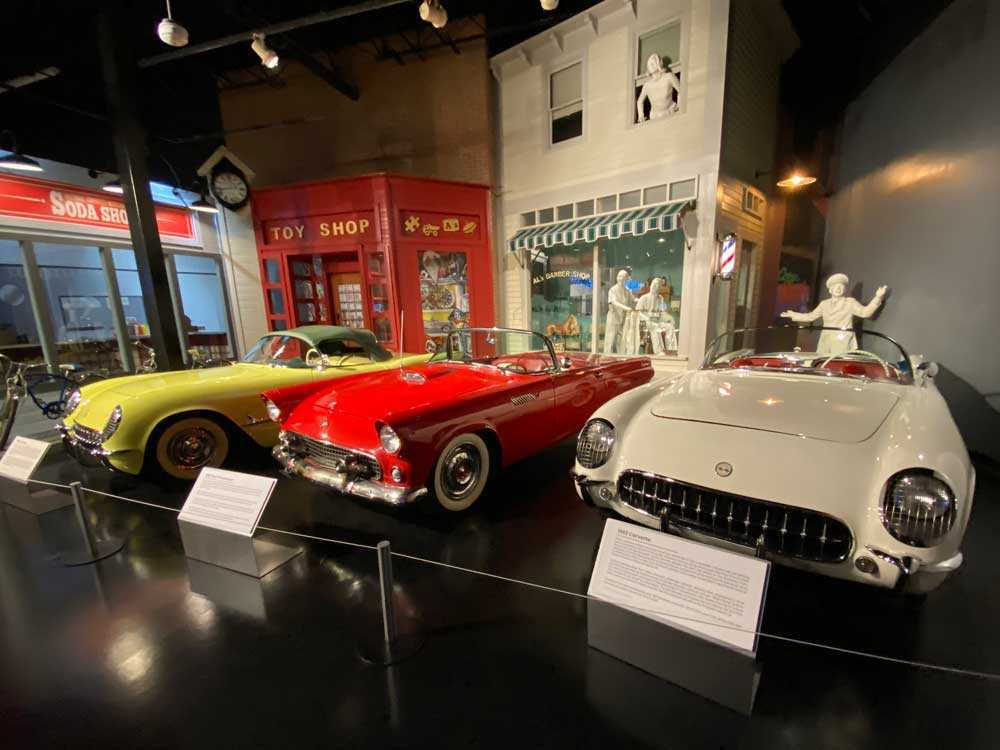 About 45 minutes from Cave City is the Lincoln's Birthplace National Historical Park.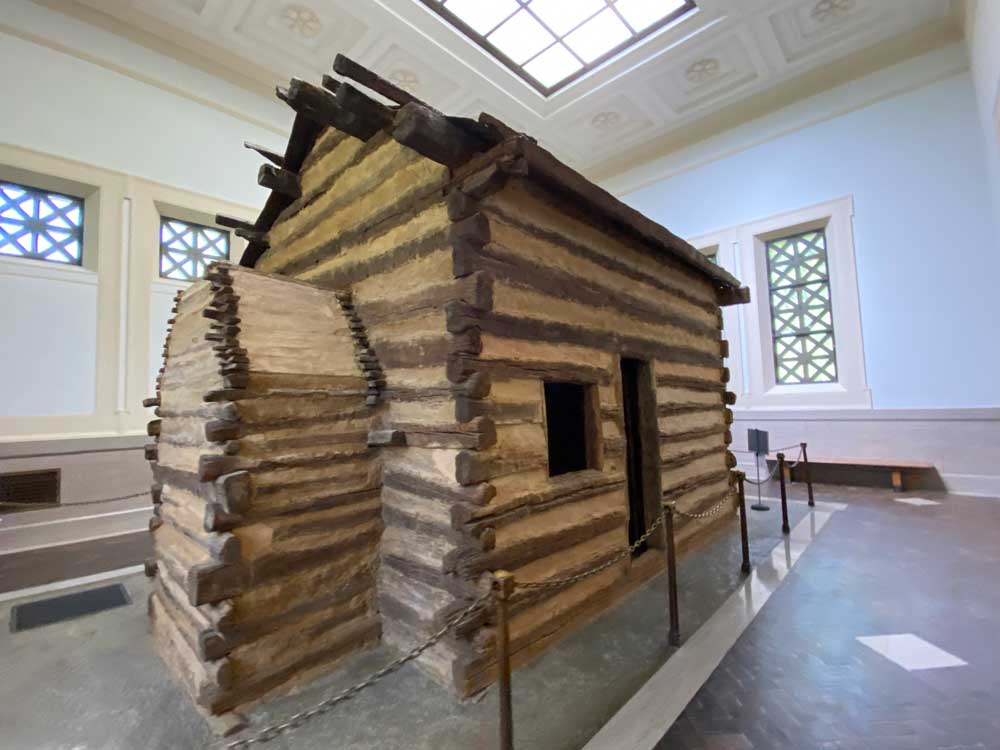 And about an hour from Cave City is the start of the Kentucky Bourbon Trail.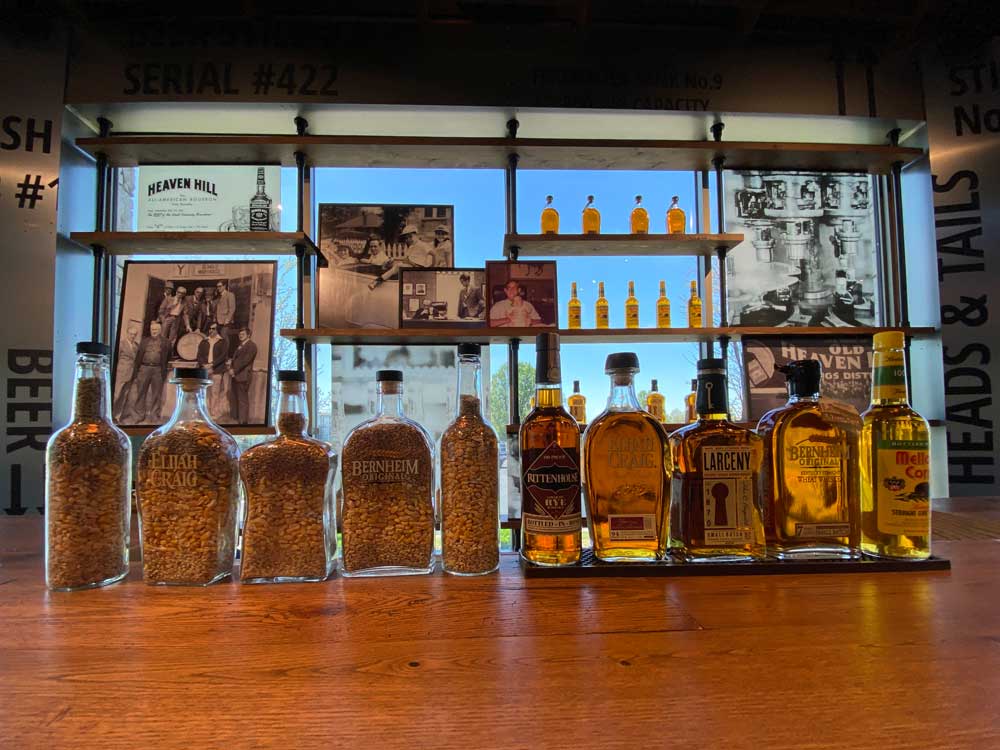 Leave a Comment
I hope you found this review of Cave Country RV Campground to be helpful. We'd love to hear about your visit to this campground or to Mammoth Cave. Leave a comment to share your experience.
Copyright 2022 Travel Trail Sail. All Rights Reserved.